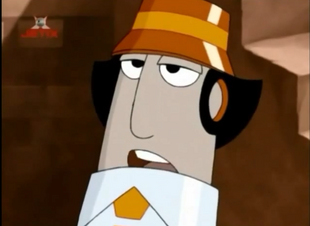 Figit is the Orange Gadgetinis. He is voiced by Maurice LaMarche.
Biography
Edit
Fidget is the most easily spooked of the pair and is coloured orange. He secretly wants to be a human, and often makes complaints about body parts that he does not technically possess, being a robot (although in the episode "One Too Many Gadgets", he is mentioned as having eaten human food, something which he should not be able to do, being a robot). He appears to have a crush on Penny.
Ad blocker interference detected!
Wikia is a free-to-use site that makes money from advertising. We have a modified experience for viewers using ad blockers

Wikia is not accessible if you've made further modifications. Remove the custom ad blocker rule(s) and the page will load as expected.