Gadget and the gadgetinis Wiki
Gadget is now a lieutenant for the World Organization of Mega Powers (WOMP ) assigned to missions that deal with criminal actions committed by MAD and the leader of MAD, Dr. Claw, the most evil man in the world. Gadget is assisted by two mini-robot duplicates of him called the Gadgetinis, named Digit and Fidget in yellow and blue color. Penny is the one who invented them, and she appears to be a teenager. Colonnel Nozairre is the replacement for Chief Quimby. Nozairre never wants to assign Gadget to anything because Gadget's clumsiness and lack of obedience to orders irritates or harms Nozairre very badly. However, the head of the WOMP always makes Nozairre hire Gadget for the missions.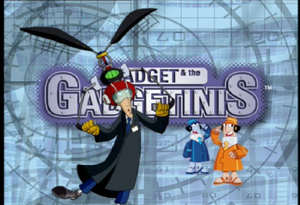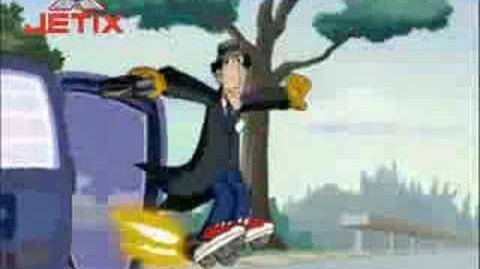 CharacterEdit
Gadget Laptop
Gadget Copter
Trick Or Trap
The Wuzzley Affair
Face To Face To Face
No Such Thing As Ghosts
High Noon
Sasquatch Watch
In Touch With Your Animal Side
Nosehair's Day Off
The General's Daughter
Unpleasant Island
Help Wanted
The Ultimate Weapon
Reality Bites
The Weather Machine
Weekend At The Beach
Prison Cruise
Ice Folly
Unseen Of The Crime
Total Reclaw
World's Nicest Dictator
Roverre
Bye Bye Business
Sub-Mission
Great Wall Of Oblivia
MADster Game
No Brainer
Meet Super G.G.
Extreme Gadget
McIntosh's Bagpipes
The Patrix
Swap Team
Super Gadget Chef
Foreign Legion Gadget
Solid Gold Gadget
Super Boss Gadget
Erasing Gadget
Rock 'n' Gadget
Gadget On The Brain
Santa Claw
The Lost City Of Gold
Operation Get Gadget
Claw's Nephew
The Comet, The Unicorn And The Bad Gadgetinis
Did You Know
Edit
Chief Quimby and Brian only appears in One episodes
Chief Quimby now works for Cyrillic Intelligent agency which is a parody of CIA
Brian and Chief Quimby Pictures in Gadget's House
Who is your Favorite Character
Ad blocker interference detected!
Wikia is a free-to-use site that makes money from advertising. We have a modified experience for viewers using ad blockers

Wikia is not accessible if you've made further modifications. Remove the custom ad blocker rule(s) and the page will load as expected.