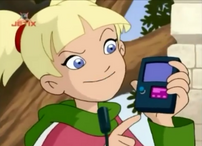 Penny is now 12 years old and a prodigy inventor. She created the Gadgetinis. Penny is still the real reason behind Gadget's continued success.
Biography
Edit
Despite not always partaking in missions, she often contacts her uncle and the Gadgetinis to offer advice and information from home. She usually does this from the attic, using her computer and many other high tech tools. Penny would sometimes accompany Gadget and the Gadgetinis.
Appearance
Edit
Penny wears a pink midriff shirt, a long sleeve turtleneck, brown baggy pants, brown belt with gray buckle, and red sneakers.